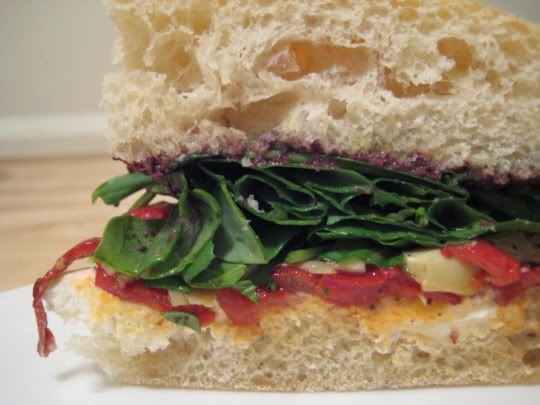 I have no idea why I even bothered to make this recipe. I hate the tangy, pickle-y taste of marinated artichoke hearts. And olives? UGH. I don't know how anyone eats these overly salty, fishy, smelly things. (I recently found out what makes a dirty martini dirty...ugh. You've got to be kidding me.) But for the love of food that at least LOOKS good, here you have it.
I took one bite of this and threw the rest away. Ohhh, that disgusting olive paste. If I didn't know any better, I'd swear there were some ground up anchovies or something in it. Even my beloved goat cheese couldn't save this sandwich. Well, I think that about sums it up.
Make again? Ha! Now what to do with an entire jar of olivada...down the drain I suppose.
Antipasto Sandwiches with Goat Cheese
Vegetarian Times
, July/August 2005